Dunia internet marketing memang sangat cepat berubah. Baru saja 1 hari saya melakukan release sebuah ebook: Bagaimana caranya meningkatkan engagement facebook Anda sebesar 200% secara gratis dan dalam waktu yang bersamaan, muncul sebuah update algoritma baru dari facebook.
Dari hasil riset Facebook, status text memiliki engagement yang tinggi ketika di buat oleh sesama user (profile) namun memiliki efek yang berbanding terbalik dengan status text yang dikeluarkan oleh pemilik fan page.
Karena bagi Facebook, engagement dari user sangatlah penting, oleh karena itu dengan adanya update ini diharapkan bahwa pemilik fan page dapat menjangkau dan lebih engage terhadap fansnya.
Ini adalah sebuah berita yang bagus sebetulnya. Di dalam ebook yang saya sebutkan diatas, saya menuliskan bahwa reach yang terbesar datang dari status text. Nah, dalam kasus ini, bisa jadi nanti akan terbalik bahwa link share yang akan menjadi reach yang datang terbanyak secara organik.
Hal itu juga berarti jikalau link share Anda ditujukan ke website Anda, traffic yang akan datang ke website Anda akan menjadi jauh lebih besar di bandingkan sebelumnya. Jikalau Anda melakukan promosi, itu juga berarti promosi Anda akan menjangkau lebih banyak dari fans Anda.
Namun, yang dimaksud facebook sebuah link share yang baik bukan seperti contoh di bawah ini:
Contoh diatas ini adalah sebuah contoh dari sebuah link share yang kurang baik. Selain engagementnya bisa lebih rendah, kemungkinan link Anda untuk di klik lebih kecil karena munculnya hanya berupa tulisan yang singkat.
Sementara, ini contoh link share yang lebih di sarankan oleh Facebook: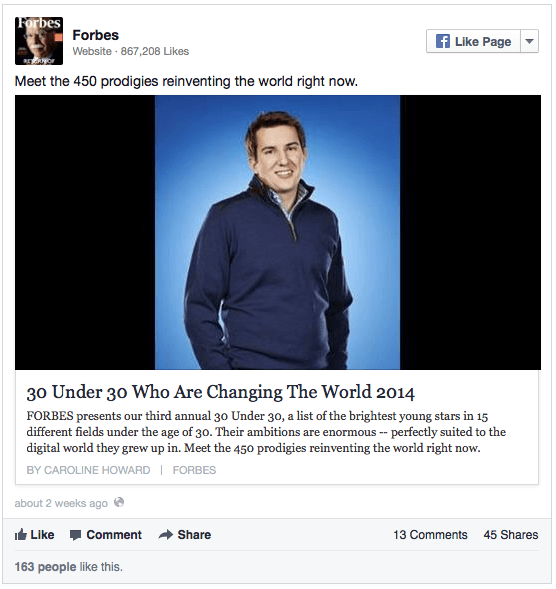 Tentu saja, seperti update yang pada umumnya, belum tentu update ini langsung dilakukan oleh facebook per hari ini juga. Yang tetap perlu kita lakukan adalah memantau fan page kita dan melihat sendiri seberapa jauh reach yang bisa dihasilkan secara organik dan mengambil kesimpulan update mana yang paling terbaik untuk fan page kita.
Ini copy dari annoucement tersebut:
The goal of every update to News Feed is to show people the most interesting stories at the top of their feed and display them in the best way possible. We regularly run tests to work out how to make the experience better. Through testing, we have found that when people see more text status updates on Facebook they write more status updates themselves. In fact, in our initial test when we showed more status updates from friends it led to on average 9 million more status updates written each day. Because of this, we showed people more text status updates in their News Feed.

Over time, we noticed that this effect wasn't true for text status updates from Pages. As a result, the latest update to News Feed ranking treats text status updates from Pages as a different category to text status updates from friends. We are learning that posts from Pages behave differently to posts from friends and we are working to improve our ranking algorithms so that we do a better job of differentiating between the two types. This will help us show people more content they want to see. Page admins can expect a decrease in the distribution of their text status updates, but they may see some increases in engagement and distribution for other story types.

Many Page owners often ask what kind of content they should post. This is difficult to answer, as it depends on who your audience is and what they want to see.

Still, one thing we've observed is that when some Pages share links on Facebook, they do so by embedding the link in the status update, like the one below:

In general, we recommend that you use the story type that best fits the message that you want to tell – whether that's a status, photo, link or video.

We'll continue to work to improve News Feed, and keep you posted here.